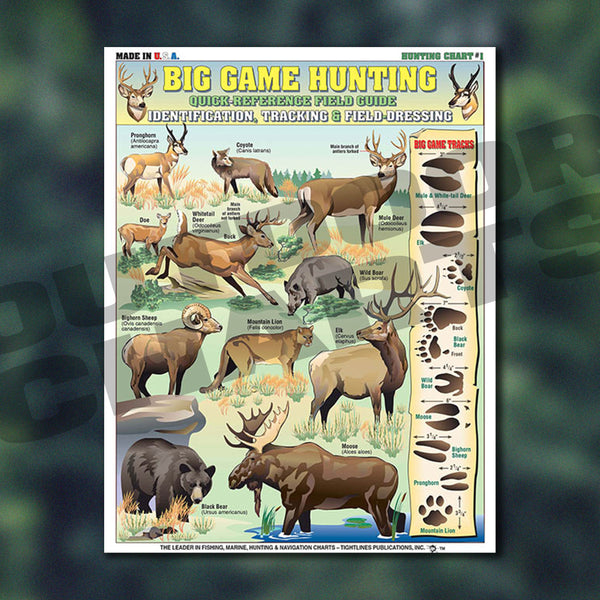 Big Game Hunting Identification Chart #1 Quick Identification Field Guide
Description

Our Big Game Hunting Chart covers various species of game found around the globe. This Identification Chart series contains Pronghorn, Coyote, Doe, Mule Deer, Whitetail Deer, Buck, Wild Boar, Bighorn Sheep, Mountain Lion, Elk, Mountain Lion, Moose, Black Bear, and many more. Each chart contains vital information and can serve as a quick reference field guide for tracking, identification, and field dressing. A must have for any hunter. 

Our charts are proudly 100% Made in the USA. They feature top of the line 3mm waterproof layering technology so you can bend 'em, fold 'em, and wipe 'em clean. Store them on board or in your tackle box, the options are endless. Perfect for the novice sportsman or professional. These charts are a must have reference item to add to your arsenal of equipment.
Key Features

• 100% Made in the USA
• For Novices and Pros of All Ages
• Rugged Waterproof Design
• Built to Last with 3mm Lamination
• Bend 'Em, Rough 'Em, Store 'Em Lifetime Guarantee
Sizing

All Outdoor Charts come in a convenient 8.5" x 11" design.