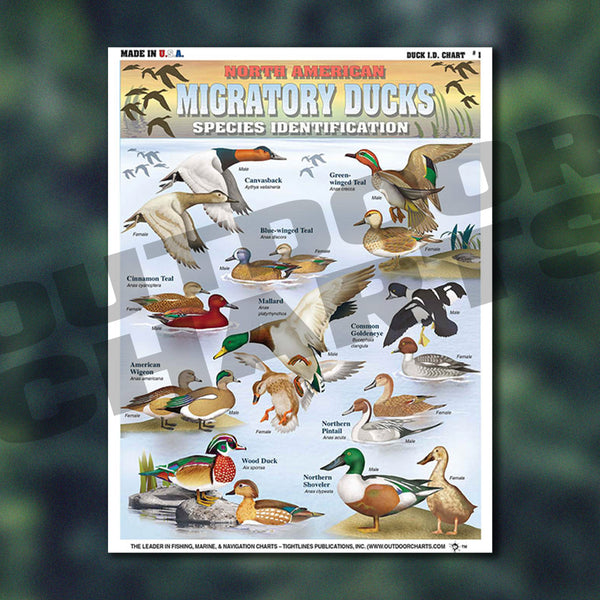 Ducks & Geese Identification Chart #1 North American Migratory Ducks Species
Description

Our Ducks & Geese Identification Chart covers various species of ducks found in North America. This Identification Chart series contains Canvasback, Green-winged Teal, Blue-winged Teal, Mallard, Common Goldeye, Cinnamon Teal, American Wigeon, Northern Pintail, Wood Duck, and many more. Each chart contains vital information such as the animal's general adult size, color patterning, and the range/location of where they are found. This is an ideal quick reference field guide for identification of migratory ducks, a must have for any hunter or bird watcher.

Our charts are proudly 100% Made in the USA. They feature top of the line 3mm waterproof layering technology so you can bend 'em, fold 'em, and wipe 'em clean. Store them on board or in your tackle box, the options are endless. Perfect for the novice sportsman or professional. These charts are a must have reference item to add to your arsenal of equipment.
Key Features

• 100% Made in the USA
• For Novices and Pros of All Ages
• Rugged Waterproof Design
• Built to Last with 3mm Lamination
• Bend 'Em, Rough 'Em, Store 'Em Lifetime Guarantee
Sizing

All Outdoor Charts come in a convenient 8.5" x 11" design.